Who am I?
Mariska Beijer, born and raised in Den Helder. That is where I have (mostly happily) lived for 18 years and took my first steps. My first years where very hectic for the family, they found out when I was a baby that I have severe allergies and eczema. To make it "easier" there was also growing a tumor inside my kidney which was discovered when I was almost 2. Thank goodness with good treatments (chemo therapy and removing of said kidney) I am clean for years and alive with 1 super healthy kidney and a beautiful zipper across my belly. Between chemo treatments I fell down the stairs where my right upper leg broke. In the hospital I was put in a contraption to raise my legs upward to release tension on the bone. Sadly after a while complications occurred. At some point it was too tight on my leg and it cut off the blood flow (so-called loge syndrome). First instance they only had to remove my lower leg muscles and they were able to preserve my foot.

In the years that followed (2-8 years) I had 20+ surgeries to keep my leg functioning, but at some point we reached the "point of no return". 03/11/1999 was a day I will never forget. That is the day I got my foot amputation. After years of pain en struggling to walk I had relief. After 2 days I was finally able to see my cute little nubby. It was the most beautiful thing/nub I had ever seen. The doctor gave me a child-friendly amputation, which I am happy with to this day. He was able to amputate in such a way I can stand on my nub without a prosthetic. In the beginning the height difference was minimal, now a days it is roughly 15 cm so when I walk on it a really stump the ground.

After years of problems with my health (asthma and eczema getting worse) my parents and I started looking for a sport. I started out by Zeemach Den Helder in an able-bodied badminton club with my new found footing. I did miss a lot of power and explosiveness and it was hard for me to complete a full training. BUT: that club had a wheelchair badminton team practicing after the childrensgroup. So I asked if could join one day. That went awesome and I was even able to compete in 2001/2002 in the adults lower division. With my double partner we even won silver in 2002!. You might think: You have talent, go for it! but I was missing something... the only question is what? One of my club mates thought he knew the answer, and he took me to the local wheelchairbasketballteam, maybe that was something for me?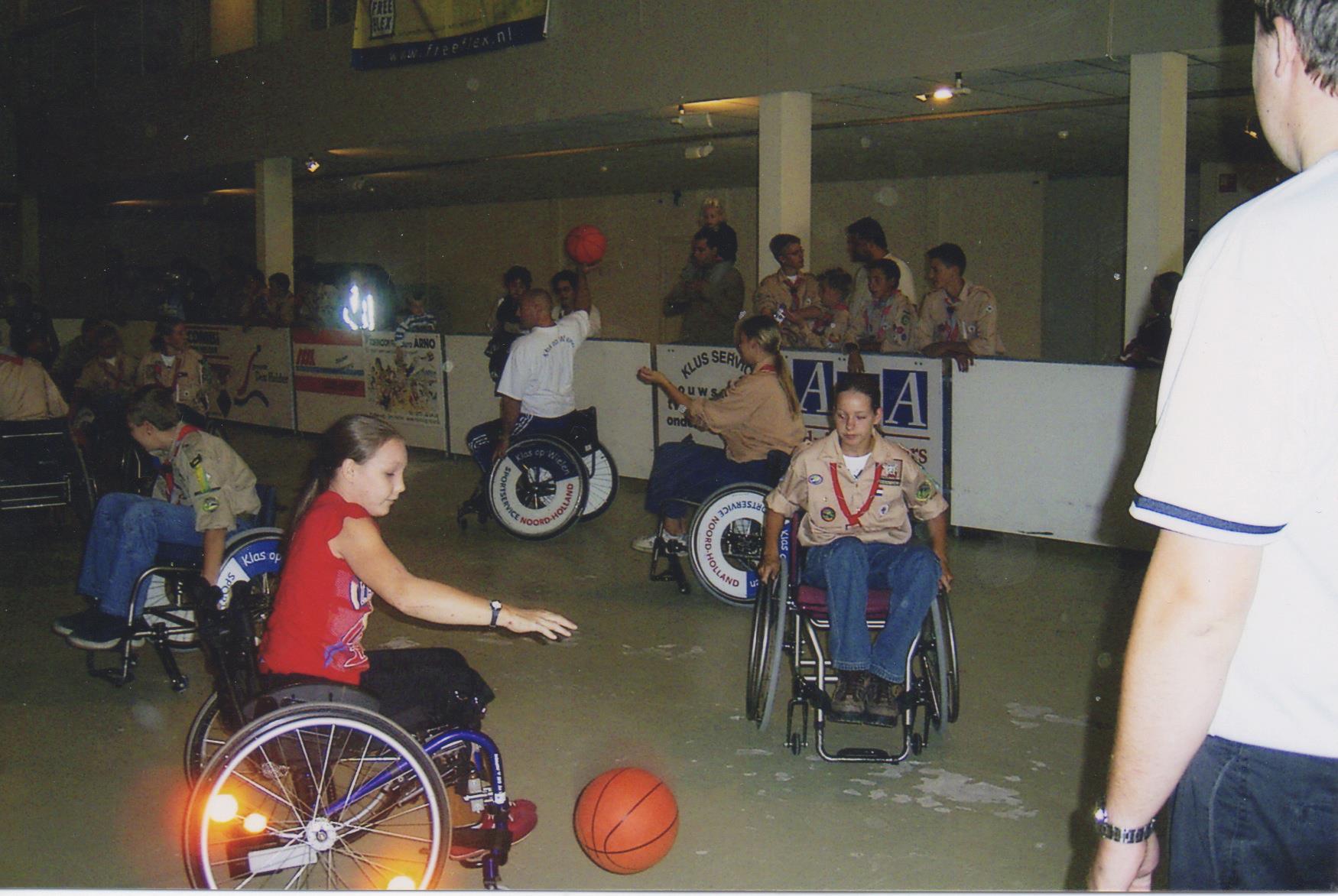 One of my first basketball pictures

The moment I got into the gym of JBC./nh is a moment I will never forget. The sound of the ball that bounces (or dribbled I learned later), crashing of the frames, yelling and even the smell of burned rubber. I. Want. This.
Quite happily I started there and after completing my badminton season never looked back, the basketball club I joined was back then one of the biggest, almost a team in every division. So I was able to develop the skillset needed from the lowest division all the way to the highest.
What happened after this....
check here!