SPORTSWOMAN OF THE YEAR FINALIST
Last week I went on this incredible trip to New York City for the Annual Salute for the world's best (female) athletes and whom they inspire. At first I was hesitant to go, because it is in the middle of the RBBL season, and I had to find the money to cover the flight costs. The WSF is a non-profit organisation so then a $1000 for a 2 day trip is very costly for them, in the end I found a few small sponsors that helped with the flight coverage and am thankful that Hannover United was ok with me going! It gave me an amazing opportunity to raise awareness about our kick-ass sport and of course your kick-ass favourite athlete.
On the 3.40 AM train to Frankfurt from Hannover I had time to be excited and read up on the history of the WSF and the amazing projects they do to help "All girls. All Woman. All Sports."
Check https://www.womenssportsfoundation.org for all the amazing things they do! They help everyone from neighbourhood programs to elite athletes. Truly incredible to be part of this family now.
Anyways, everything went according to travelplan: Hannover (train) Frankfurt (flight) Moscow (flight) New York City (taxi) Wall street. In bed at 12:30 AM Wednesday. Luckily my roommate, Patty Cisneros Prevo, retired wheelchair basketball athlete and writer of the unstoppable series https://www.instagram.com/unstoppable_book_series/, didn't mind that I was there so late. After a few delightful hours of sleep I woke up at 5:30. My internal body still in Europe I was unable to go to sleep. After a bit of trying to fall back asleep I want around the streetblock (pro off Manhattan/ Financial District… no scary alleys) and got breakfast at 6:30. The first activity was at 8:30 where we had a small group of athletes in a stretch / yoga class class. I was glad I did that since I was all kinds of stiff from traveling. Around the stretching we had some time to get to know each other.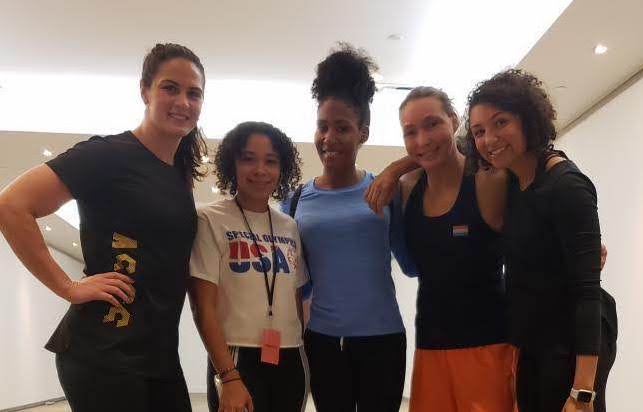 on the picture: Ajee Wilson (athletics, team USA), Miranda Mendoza (Track & Field Special Olympics), Adeline Gray (Boxing World Champ), yours truly & Shelby Lawson (instructor)
After a much needed shower and talk to roommate Patty we headed to the venue for rehearsal. The venue was amazing, Cipriani Wall Street was just behind the hotel, and the atmosphere (even without the audience) was breathtaking. We got a little tour around the place and we had the run through for the podium, the do's and dont's and what not. After this we went back to the hotel to grab lunch and got into hair and make-up. They had a lot of professionals ready for us and make us look at our finest. I would say they did a tremendous job!!
Then the hardest part was there. It was 3.30 by now and slowly I could just feel my body getting into sleep mode, so I got up and got some Starbucks to get me filled up with caffeine and ready to stay awake for the rest of the afternoon. In the end that was really easy, from walking on the red carpet and having interviews, to going to the waiting point for the on stage part, there was just so much to see and people to talk to. On the stage I had to do a little flex (twice) haha, have to show them what I got right?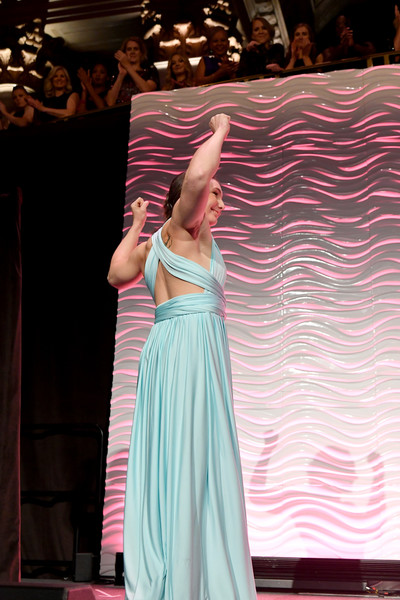 Getty Images / Mike Coppola

After the Salute part and all the amazing athletes passed the stage, we were able to join the tables for the delicious banquet. It was really well set up, every table had one athlete or notable women's sport activist, and the rest was sponsor/company that paid to be part of the event. I joined the NBC table, and had a lovely evening with them. Of Course made some connections, have to think forward right? Besides good company, the dinner was high-end and everything of that evening was really glamorous.
Sportswoman of the Year (individual): Claressa Shields
Sportswoman of the Year (team): Megan Rapinoe
After the show ended there was an after-party, for myself that was a little too much. After being awake for 20 hours and in a different time zone I started to tumble down slowly. So I got on the organiser bus back to the hotel and went to bed at midnight.
The next morning my jetlag woke me up at 6.30, which is actually a good time. I had the entiremorning for myself since I didn't have to be at JFK airport until 13:00. So I packed my stuff, dropped it off at the front desk and went on an adventure in the Financial District. Never have I been more happy that you can download an offline map on Google Maps, that really saved me the trouble of finding your position on a regular (trust me… I can do that easily) but it is not easy to wheel around the district with lots of wind trying to hold a big *** map. Of course the first stop I made was to see the statue of liberty, there was a vintage point only a 10 minute push away from the hotel, so I zipped up my coat and rolled away. After that I went and saw the famous Charging Bull on Wall Street, found my way to the impressive 9/11 memorial site, made friends with Courage Girl, admired George Washington and traveled the famous Brooklyn Bridge. After 2.5 hours touring the district it was time to slowly headed back to the hotel and say bye to newly made friends and the WSF organisation. This will definitely not be the last time I will be in contact with them, there might be something special coming up… so stay tuned for that news!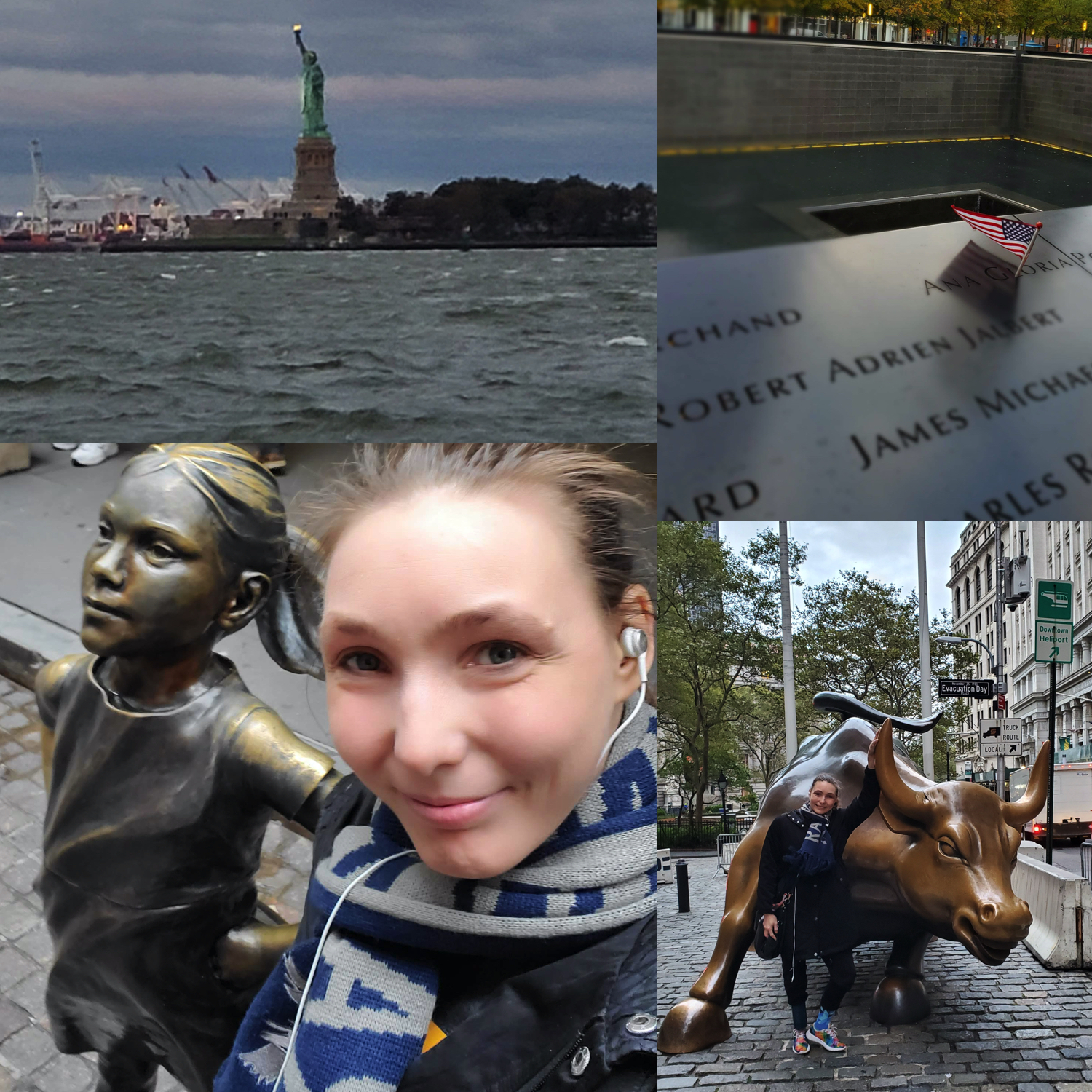 Then it was time to order an Uber and go to the JFK airport in some nice New York traffic. I got there at the opening of the check-in desk so I would say the traffic gave me perfect timing.Everything went smoothly until we wanted to taxi to the runway. There were a fewdelayments due to heavy winds, so 2 hours later than normal we finally had liftoff and where on our way! It was a good thing that I had some extra room for my transfer, instead a 4h lay-over it became only 90 minutes, which was just enough for some movement / getting a good meal break. The secondflight went by really fast, mainly because I slept from takeoff till landing… might have been dead tired from all the impressions and traveling. The ICE train to Hannover was super busy, so luckily I brought my own seat with me - one of the major wheelchair perks - and just relaxed. Sadly the train was 40 minutes delayed which left me little time back home. In the meantime it is already Friday due to timezone changes and having an "overnight" flight to Europe. Anyways… got home and ditched everything out of my backpack, threw in my workout clothes and Tobias (my roommate) and I were on our way to the last team practice of the week. It is an understatement that for me that practice didn't went that well… nobody's perfect right?
Saturday was a big day for me… it was an away game versus the Dolphins Trier, my old club where many of my friends are. We knew it was going to be a head to head game. At half-time it was only a few points difference in our advantage. Then in the 3th quarter we took off and never led the big lead go. 62-94 win for Hannover United!! After the game we couldn't resist taking some incredible cheesy reunited pictures with the group. Truly the best ending of a perfect week.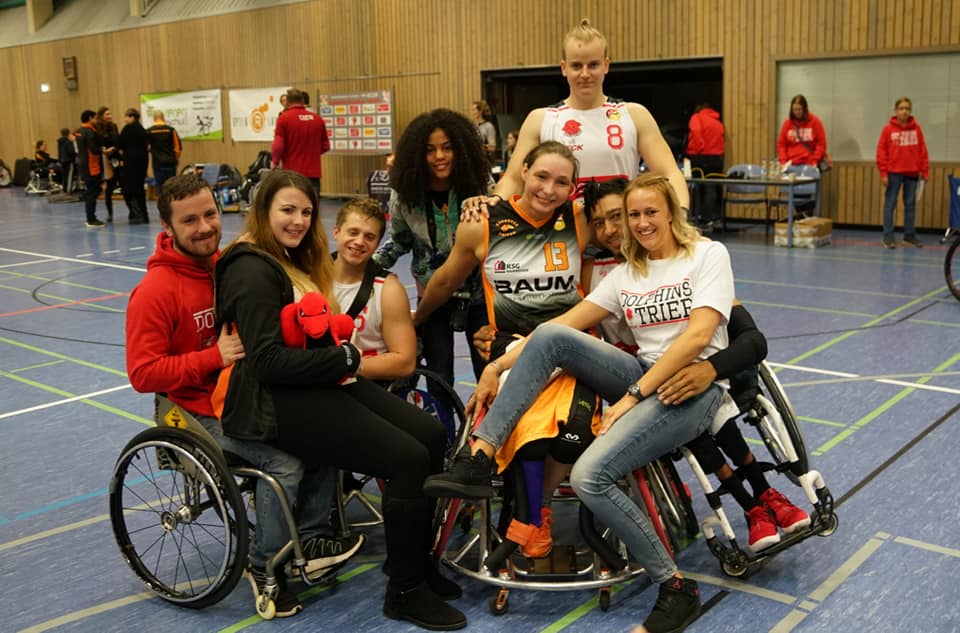 photo: Sandra Wagner / Trier Dolphins